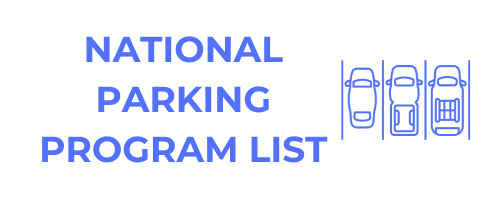 Parking Programs by State
Alabama
Alaska
Arizona
Arkansas

Fayetville

7Hills Homeless Shelter: Visit us at 1832 S. School Ave, Fayetteville, AR 72701 any time between 8:30 am and 3:00 pm, Monday through Friday. If you have a vehicle, we have plenty of parking for you. 479-966-4378 info@7hillscenter.org
California

Alameda County

The Alameda County Safe Parking program in San Leandro, at the Fairmont Campus, offers local community members who are experiencing homelessness with a safe place to park at night and a place to park during the day that isn't in local neighborhoods, opportunities to engage with resources and services, and a stable community where they can begin to reconnect with their informal support network. To participate in the 24 hour safe parking program participants must register by calling 510-593-4660
The Village of Love Safe Parking Program: The Safe Parking Program offers the unsheltered residents of Alameda, who live in their vehicles, a safe, welcoming, and secure parking lot to sleep overnight in their vehicle. To register or for more information call (510) 995-8936

Culver City

Nighttime Safe Park Parking Permit Program: This Program aims to provide a safe and comfortable place for people who are experiencing homelessness and living in their cars to safely park their cars at night. Call (310) 253-6767 or email safe.park@culvercity.org

Freemont

The Safe Parking Host Site Program (SPHS) is one of many programs the Fremont City Council has recently adopted to help address homelessness in the City of Fremont. The program is designed as a safe, transitional space for individuals living in their vehicle. The program is a rotational model, with faith-based organizations across the City hosting individuals or couples on their site for one month before rotating to the next site. Email safeparking@fremont.gov or call 510-574-2222.

Los Angeles

Safe Parking LA: Safe Parking LA provides safe overnight parking to facilitate stability and housing in Los Angeles County for individuals living in their vehicles, and advocates for fair and equitable treatment and resources for the unhoused. Call (323) 210-3375 or email intakes@safeparkingla.org.

Modesto

Safe Parking program is a six month pilot program in partnership with Salvation Army to provide a location for safe overnight parking to people living in their vehicle. This program will offer a temporary, overnight, safe location to park for individuals and families living in a vehicle, while providing access to services that will transition them into more stable housing. The City is continuing to explore partnerships with Stanislaus County and private partners to help support the sustainability of the program after six months. Safe Parking Program Registration 209-522-3209

Monterey County

One Starfish Safe Parking: Clients seeking to participate in this program take part in an intake assessment to determine eligibility. Ongoing counseling is designed to identify immediate crises and establish long-term goals. Once accepted, each One Starfish guest will have 30-day access to safe overnight parking and are required to attend regular meetings with One Starfish social workers to assist in reaching the participant's and program goals. After every 30 days, eligibility to remain in the program is assessed. EMail safeparkingprogram@gmail.com or call 831-275-5167

Mountain View

The City's Safe Parking Program provides unhoused Mountain View residents a temporary, safe location to park their vehicle. Call (650) 861-0181 or email movemvemail@gmail.com

Oakland

ICAC's Safe Car Park Program is designed to provide safe overnight parking for individuals and families who are living out of their cars. For general information about the Safe Car Park program contact, 510-239-6681.

Redwood City
Sacramento

The City of Sacramento has launched a "Safe Parking" site in a parking lot on the southern section of Front Street. Known as South Front Street Safe Parking, the site is open 24 hours a day, seven days a week and can host approximately 60 vehicles, depending on their sizes. The site, which is staffed around the clock, also offers port-a-potties, storage and meal access. Case managers work out of a trailer on site, offering social-services support and housing coordination. Email homelesscoordination@cityofsacramento.org.
The City of Sacramento opened its first "safe ground" site in July of 2021 in a parking lot near W and Sixth streets in downtown Sacramento. The site, adjacent to the W/X portion of the Capital City Freeway, is open 24 hours a day, seven days a week and can host approximately 100-150 people experiencing homelessness. The lot has two distinct spaces: One is for tent camping; the other is for safe parking for vehicles. The site, which is staffed around the clock, offers port-a-potties and cleaning stations. Case managers work out of trailers on site, providing support for mental-health needs and substance-use disorders as well as housing coordination. Email homelesscoordination@cityofsacramento.org.

San Diego

Jewish Family Service of San Diego: The program operates seven nights per week at five secured lots at Balboa Avenue, Aero Drive, Mission Village Drive (open 24 hours), Rose Canyon, and Encinitas. Enrollment is required for all locations. To enroll, call (858) 637-3373 or

start the process online

.

San Luis Obispo

The 40 Prado Safe Parking programs offers individuals living in their cars a safe place to park overnight at 40 Prado as well as access showers, meals, mental and physical health services, and housing case management. Call 805-458-2984 or email smundschau@capslo.org

Santa Barbara

New Beginnings' Safe Parking Shelter: The program currently manages 154 spaces in 26 parking lots throughout the cities of Santa Barbara, Goleta, and the neighboring unincorporated areas of the county. Contact staff of our Safe Parking Program by calling (805) 963-7777 or through email at safeparking@sbnbcc.org.

Santa Cruz

RV SAFE PARKING: A 24 hour a day safe parking program for people who are homeless that live in RV's. Call 831-515-8665 or email RVSAFEPARKING@THEFREEGUIDE.ORG
SafeSpaces: The SafeSpaces program allows folks who are living out of their vehicles a safe place to park with access to sanitary facilities and other amenities. We also offer program staff to help plan their next steps to better housing. ​Contact Cristina Gomez-Hernandez at 831.753.8555

Santa Rosa

The Safe Parking Program: Given limited space, individuals identified in coordination with Catholic Charities' Homeless Outreach Services Team (HOST) are currently being prioritized for placement in the program. To make or receive a referral please call 707-978-8329 or email host@srcharities.org or go to the Caritas Drop-In Center at 301 6th Street (Suite 108).

Sebastopol

The Community Church, with help from Catholic Charities in Santa Rosa, will be restarting our Safe Parking program. Safe Parking will allow people that have no other place to sleep, other than in their car, to stay the night in a safe environment on our church property. The program will allow up to 5 vehicles to park from 8:00pm to 8:00am. Contact Chris Change Weeks office@uccseb.org.

Ventura

Safe Sleep Ventura. Participants must apply for the program through the Salvation Army, and meet certain conditions to be eligible for the program. They also receive services to help give them a path out of homelessness. Guests are screened by The Salvation Army and have a case worker assigned to them. It is our intention to create a friendly, welcoming experience for all. Please schedule an appointment by calling The Salvation Army at 805-648-5032 or email luyv@liftupyourvoice.org

Vista
Colorado

Denver

Colorado Safe Parking Initiative: Safe overnight parking is available for families or individuals experiencing homelessness and living in a passenger vehicle in the Denver metro area. A small number of RV/camper spaces are available as well. SafeLot guests have access to bathroom facilities, housing navigation, and other services. Spaces are limited, and a permit is required for all safe parking sites. Car-Only locations are currently in Arvada, Aurora, Broomfield, Commerce City, Denver, Golden, and Lakewood. There are two RV locations in Broomfield. Apply: https://www.colosafeparking.org/request-a-parking-permit

Longmont

Hope for Longmont, SafeLot. This program supplements our navigation and street outreach programs and lays the foundation to dramatically assist a population that is isolated, yet in need. Our participants have barriers to traditional forms of shelter for numerous reasons including PTSD, pet ownership and/or are families with children. We provide a place for them to sleep safely all night in their vehicles without fear of assault or harassment. Contact Joe Meggison (Program Manager) joe@hopeforlongmont.org
Connecticut
Delaware
Florida
Georgia
Hawaii
Idaho
Illinois
Indiana
Iowa
Kansas
Kentucky
Louisiana
Maine
Maryland
Massachusetts
Michigan
Minnesota
Mississippi
Missouri
Montana
Nebraska
Nevada
New Hampshire
New Jersey
New Mexico
New York
North Carolina
North Dakota
Ohio
Oklahoma
Oregon
Pennsylvania
Rhode Island
South Carolina
South Dakota
Tennessee
Texas
Utah
Vermont
Virginia
Washington
Washington DC
West Virginia
Wisconsin
Wyoming
Studies and Articles
Affordable housing is disappearing. So cities are designating parking lots to sleep in. Vox, Matthew Zeitlin.
A Primer on Safe Parking Programs for People Experiencing Homelessness. Lisa Pool, MRSC, March 31, 2022.
Homes Without Homes: An Ethno-Archeology of Vehicle Residency in Public Parking. Graham J. Pruss, Society for Applied Anthropology, Human Organization, Vol 82, No. 2, 2023
'My car is my home': the California students with nowhere to live. The Guardian, Lois Beckett.
Safe Parking: Insights from a Review of National Programs. University of Southern California Sol Price School of Public Policy
Smart Practices for Safe Parking. A nationwide review of safe parking programs for people sheltering in vehicles. University of Southern California Sol Price School of Public Policy
Where You Go When Your Car is Home. Transfers Magazine, Issue 10 | January 2023, Madeline Brozen.
Without parking, car and RV dwellers have nowhere to go. Street Roots, Graham Pruss.
Parking Programs FAQ
What is a Parking Program?

Parking Program areas offer a temporary off-street option for individuals and families who are using a car or RV as their primary residence. Many locations are run by Faith Based organizations in local communities and partner with other social service agencies.

Parking Program lots provide people with a safe and stable place to park their vehicles.

At many locations vehicle residents can access volunteers who can provide them with hot food and warm clothes, and on-site service providers who can link them to employment, housing, and medical services.

Qualifications to park in these safe lots vary by location. Some require participants to enroll in their social services.
Why are Parking Programs Needed?

Many vehicle residents need to stay within specific communities for health, work, and family and have no permanent place to park the vehicles they live in.

Additionally, many vehicle residents would like to transition into traditional housing and would like to benefit from the services that are often offered at these locations.

Safe Parking programs provide a safe place for vehicle residents of all kinds to park without fear of ticketing, impoundment, or discrimination.
How do I find a Parking Program?

We have compiled a list of known Parking Programs above.

Additionally, you can contact the housing authority in your local community to see if they offer Parking Programs as a part of their services for the homeless community.
How can I start a Safe Parking Program in my Community?

The Interfaith Task Force on Homelessness (ITFH) created a flyer for how to start a safe parking program: CLICK TO DOWNLOAD