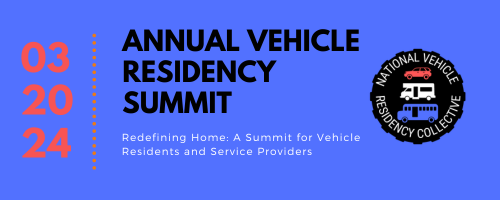 Join us each year for the Annual Vehicle Residency Summit, a cornerstone event that unites vehicle residents, parking program providers, legal advocates, and other stakeholders in an open and informative setting. Our summit serves as a unique platform to build community, share knowledge, and raise awareness about the diverse experiences and challenges associated with vehicle residency.
This yearly summit is a free virtual event, hosted on Zoom, to ensure maximum accessibility. Each day of the summit kicks off at 10am PT/1pm ET and concludes at 3pm PT/6pm ET. The event features a range of expert speakers who delve into topical issues, from legal considerations to community-building strategies, all aimed at enhancing the quality of life for vehicle residents. In addition, interactive discussion tracks are available to allow attendees the opportunity to have moderated conversations on key topics, sharing their own experiences and learning from others.
Don't miss the chance to be a part of this transformative event. Watch out for our detailed agenda and make sure to register in advance to secure your spot. The Annual Vehicle Residency Summit is not just an event; it's a movement toward greater understanding and support for the vehicle residency community. We look forward to your participation!
---
Countdown to the next Summit in March '24…
---
Do you want to present at the 2024 Summit?
---
Watch Recordings of the 2022 Summit…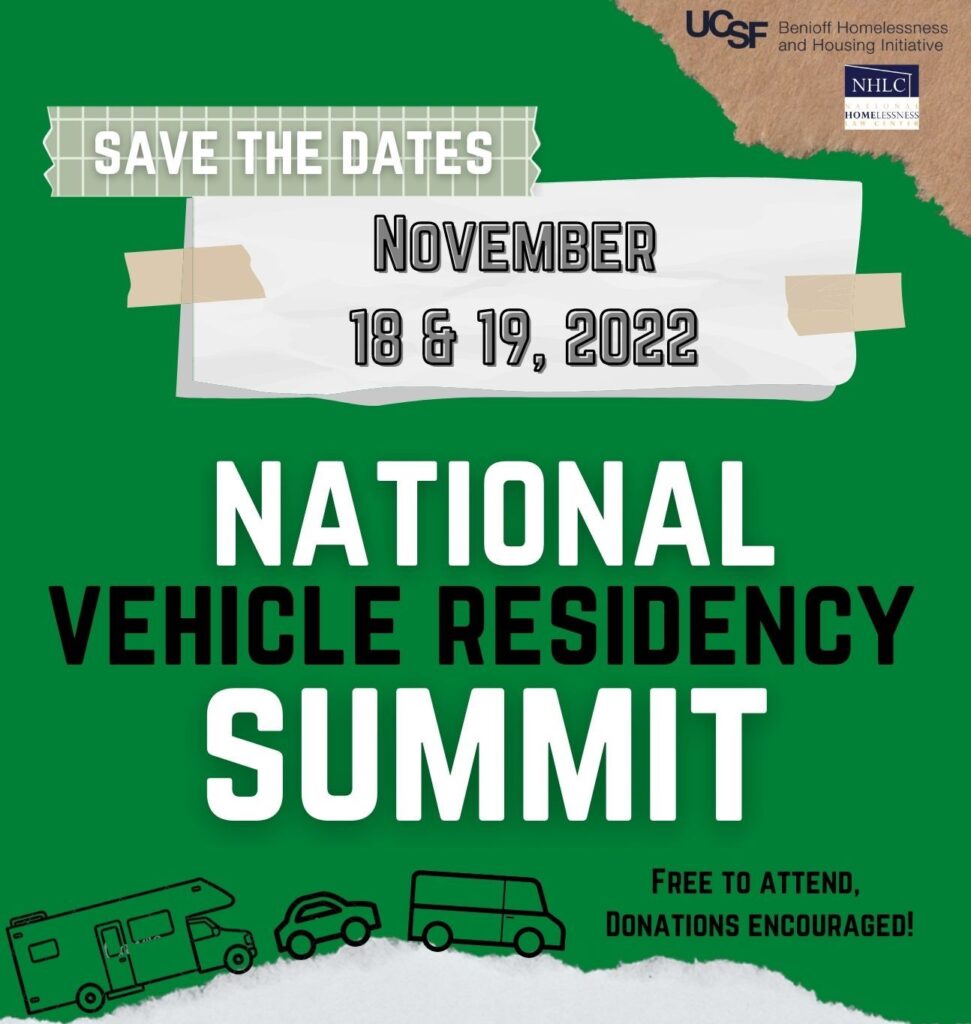 Time
Session (Day 1, Friday, Nov. 18)

10am PT /1pm ET
Welcome to the Summit!
Why are we here? This plenary provides an overview of the National Vehicle Residency Collective, the Summit, and our sessions.
– Plenary speakers Bob Wells, Dee Powers, Tristia Bauman, and Graham Pruss.

11am PT /2pm ET
A Recent History of Vehicle Residency in the US
Who are vehicle residents? What are vehicle residents' history of unsettlement and structural violence? – Graham J. Pruss, PhD

12pm PT /3pm ET
Understanding Parking Programs
What are vehicle residency parking programs? How do they work? What are their barriers? – William Sweeney, Graham Pruss


What are Poverty Tows and How to Fight Them – Tristia Bauman
1pm PT /4pm ET
Building Support for Parking Programs
How to build community support and political will for parking programs. – Karina O'Malley, Rev. Ben A. David Hensley, Beverly Scow, Chris Wilkerson


Criminalization of Vehicle Residency
What are the legal rights of vehicle residents? What laws and policies can protect vehicle residents' liberty and property? – Tristia Bauman
2pm PT/5pm ET
State and Federal Policies Affecting Vehicle Residents
What policies exist that benefit or harm vehicle residents? What policies should be changed or enacted? – Tristia Bauman

Day 1 session schedule, Fri. Nov. 18, 2022
Time
Session (Day 2, Saturday, Nov. 19)

10am PT /1pm ET
Welcome to Day 2 of the Summit!
Review key takeaways from Day 1, overview of Day 2 presentations and moderated discussions, call to join the National Vehicle Residency Collective and develop the Collective for 2023! – NVRS Coordinators

11am PT /2pm ET
How to Live and Thrive in Your Vehicle
Where to park? How to access and use public services? How to meet basic needs? – moderated by Phyllis Bickford


Conversation Track: Continued discussion of criminalization of vehicle residency – moderated by Tristia Bauman
12pm PT /3pm ET
Raising Positive Public Awareness of Vehicle Residency
Collaborate on new ways to improve public awareness. – moderated by Suanne Carlson


Vehicle Residency and Housing First
How to navigate Housing First framing as a parking program – William Sweeney


Discussion: Issues Affecting Female-Presenting Vehicle Residents. – Tristia Bauman
1pm PT /4pm ET
Closure of Public Lands and Overnight Parking Spaces
Come learn why are our public lands are closing and how to help stop it. – Jaime Restorff and Jake Hoster


Discussion Track: Continued discussion of federal and state policies – Tristia Bauman and William Sweeney

Vehicles as Housing, Housing as Vehicle
When can or might vehicles be permanent, i.e. long-term, residences? In legal, practical, spiritual terms. – Tim McCormick

2pm PT/5pm ET
Closing Plenary Session: Moving Forward – NVRS Coordinators

Day 2 session schedule, Sat. Nov. 19, 2022